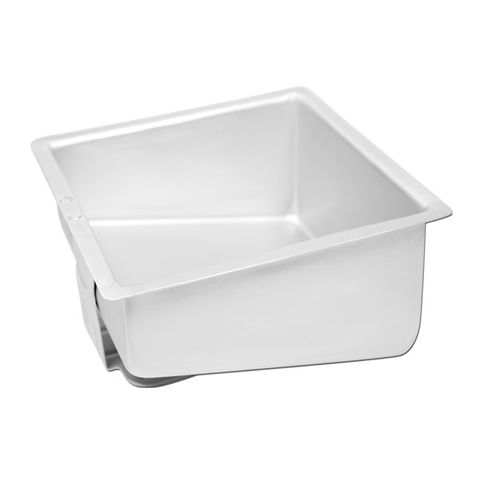 CAKE PAN/TIN | 14 INCH SQUARE | MAD HATTER | 4 TO 2.5 INCH DEEP
Login For Price
Description
Mad Dadder Pans have a wide side of 4 inches / 10cm and a short side of 2.5 inches / 6.35cm for perfectly balanced cake stacking.

Pan Preparation for Professional Results: CAKES: The professionals tell us unsalted butter with a dusting of flour is all it takes. Shortening or lard can also be used effectively. There are a number of commercial pan release products that contain flour that are also very effective. We recommend Baker's Joy. BAKING TIP: We do not recommend the use of olive oil or aerosol release sprays containing olive oil as they can leave a sticky residue and discoloration. Bakeware Care and Cleaning: To maintain the beauty and performance of the Anodized bakeware, our cleaning recommendation is a simple hand washing or soaking in warm soapy water, followed by a quick rinse and towel or air drying . Do not use bleaches, harsh chemicals or abrasives.
Your delivery can take between 2 - 7 business days to arrive depending on your delivery location. Contact us to get a better idea on when your delivery will be received if you are unsure.
To see our full Delivery & Returns policy click here.