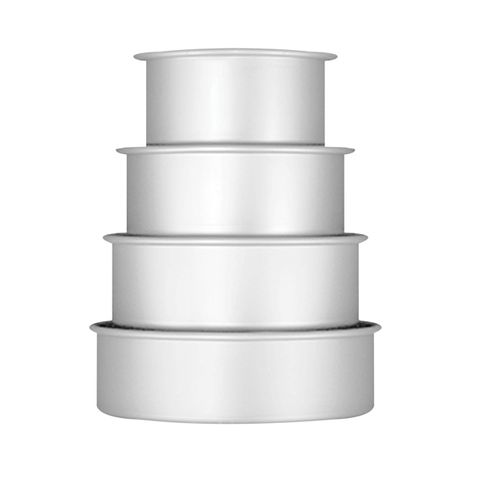 CAKE PAN/TIN | ROUND SET OF 4 (6-8-10-12 INCH) | 3 INCH DEEP
Stock Code:
TMY6-12-3ARDE
Login For Price
Description
These solid bottom 3" deep round cake pans feature straight sides, rolled rim, and uniform wall thickness, essential for professional results. Each pan is manufactured with a premium 3003 aluminium and anodized to promote easier clean up, tremendous durability and baking efficiency.

Pan Preparation for Professional Results:

The professionals tell us unsalted butter with a dusting of flour is all it takes. Shortening or lard can also be used effectively. TIP: We do not recommend the use of olive oil or aerosol release sprays containing olive oil as they can leave a sticky residue and discoloration.

Bakeware Care and Cleaning:

To maintain the beauty and performance of your bakeware, our cleaning recommendation is a simple hand washing or soaking in warm soapy water, followed by a quick rinse and towel or air drying . Do not use bleaches, harsh chemicals, abrasive soaps, wire brushes, scouring sponges, or sharp tools when cleaning as they can damage the surface of your bakeware. Can I put my pan in the dishwasher? We don't recommend it. Many dishwasher detergents contain aggressive chemicals and phosphates that can dis-colour the baking surface. This can also be true of bleaches, oven cleaners, and other caustic cleaning agents. The beauty of our anodized bakeware is that you just don't need these aggressive chemicals.

Important Comments:

- Anodized Aluminium for safety & performance (No chemical coatings - will never rust, peel or chip)
- Heats faster and cools quicker (No heavy heat-retaining material that over bake)
- Straight sides for perfect layers
- Easy cake release & clean up
- Hand wash recommended
- Not microwave safe

Set Contains - 1 x 6" Pan, 1 x 8" Pan, 1 x 10" Pan, 1 x 12" Pan
Your delivery can take between 2 - 7 business days to arrive depending on your delivery location. Contact us to get a better idea on when your delivery will be received if you are unsure.
To see our full Delivery & Returns policy click here.